Use our thorough list of Conveyor belting manufacturers and suppliers in Massachusetts to examine and sort top Conveyor belting manufacturers with previews of ads and detailed descriptions of each product. Any Conveyor belting manufacturers can provide Conveyor belting products and services to meet your companies specific qualifications. An easy connection to reach Conveyor belting manufacturers through our fast request for quote form is provided as well. This source is right for you whether it's for round belts, flat belts, o-ring belts or any other conveyor belting needs.
Agawam, MA
|
413-786-9922
We particularize in metal belts for specialized conveyors and carbon steel or stainless steel process belts. If you have sanitation requirements for your process, choose stainless steel. Carbon steel is used if a scraping blade is to come in contact with the belt. Metal belts don't stretch and are durable.
$$$
Holyoke, MA
|
800-462-2525
FLN-MAR Rubber & Plastics distributes, fabricates and repairs conveyor belting products such as rubber conveyor belts, conveyor rollers, conveyor chains and urethane belting. Our products are used in various industries including paper mills and food processing as well as other general industries.
$$$
Worcester, MA
|
800-640-8807
Since 1854, we have been providing innovative solutions for repair, design and installation of all belting systems. We specialize in conveyor and v-belt systems, flat and round leather belts, rubber and nylon belting, timing belts, lacing belts and many more. Let Hudson Belting be your belt expert. We are celebrating 150 years of business and 75 years of family business. Contact us today!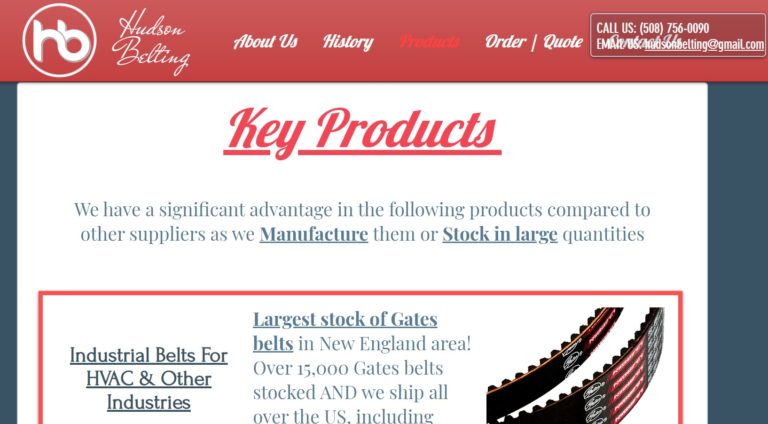 $$$
Companies Serving Near Massachusetts