Industrial conveyor belts are systems created to transfer materials or items over a predetermined distance utilizing a belt wrapped around several revolving cylinders. Conveyor systems that move objects from one location to another depend on industrial belts as essential parts. Read More…
Industrial Belts
Industrial belts are integral components of conveyor systems that transport items from one area to another without the assistance of workers. They are commonly seen in assembly lines across all types of manufacturing industries, including food and beverage, automotive, electronics, packaging, recycling, waste management, milling, commercial goods and metal fabrication.
The typical materials used to make these belts include rubber, PVC, urethane, neoprene, nylon, and polyester. Multiple layers of material make up industrial conveyor belts. However, two layers make up the majority of the material transfer belt. The lowest layer, referred to as the body, provides its shape and linear strength. The cover refers to the outermost layer and is made of various rubber or plastic substances.
Types of Industrial Belts
Flat Belts
One of the most popular forms of industrial belts is the flat belt. These belts operate by resting on top of flat pulleys and feature a rectangular cross-section. Depending on the design, they can transmit power from either side. Many industrial devices, including compressors, separators, fans, belt conveyors, sawmills, water pumps, and machine tools like grinders, use flat belts. Initially, leather belts were used for flat belt applications. However, as new materials like rubber and synthetic polymers have been discovered over time, the use of leather belts has considerably decreased. Pulleys that are crowned or tapered work best with flat belts.
Round Belts
Round belts fit into U- or V-shaped grooves in a pulley because of their circular cross-section. They are called O ring type belts, endless drive, and round belts. Both power transmission and motion control applications use round belts. In addition, line shafts, commercial conveyors, packaging equipment, photocopiers, printers, etc., all use these belts.
Round belts are ideal for applications where belts are anticipated to undergo significant twisting and turn while coming into touch with numerous pulleys. In addition, these belts may transmit force and generate friction from any point on their spherical surface by their design.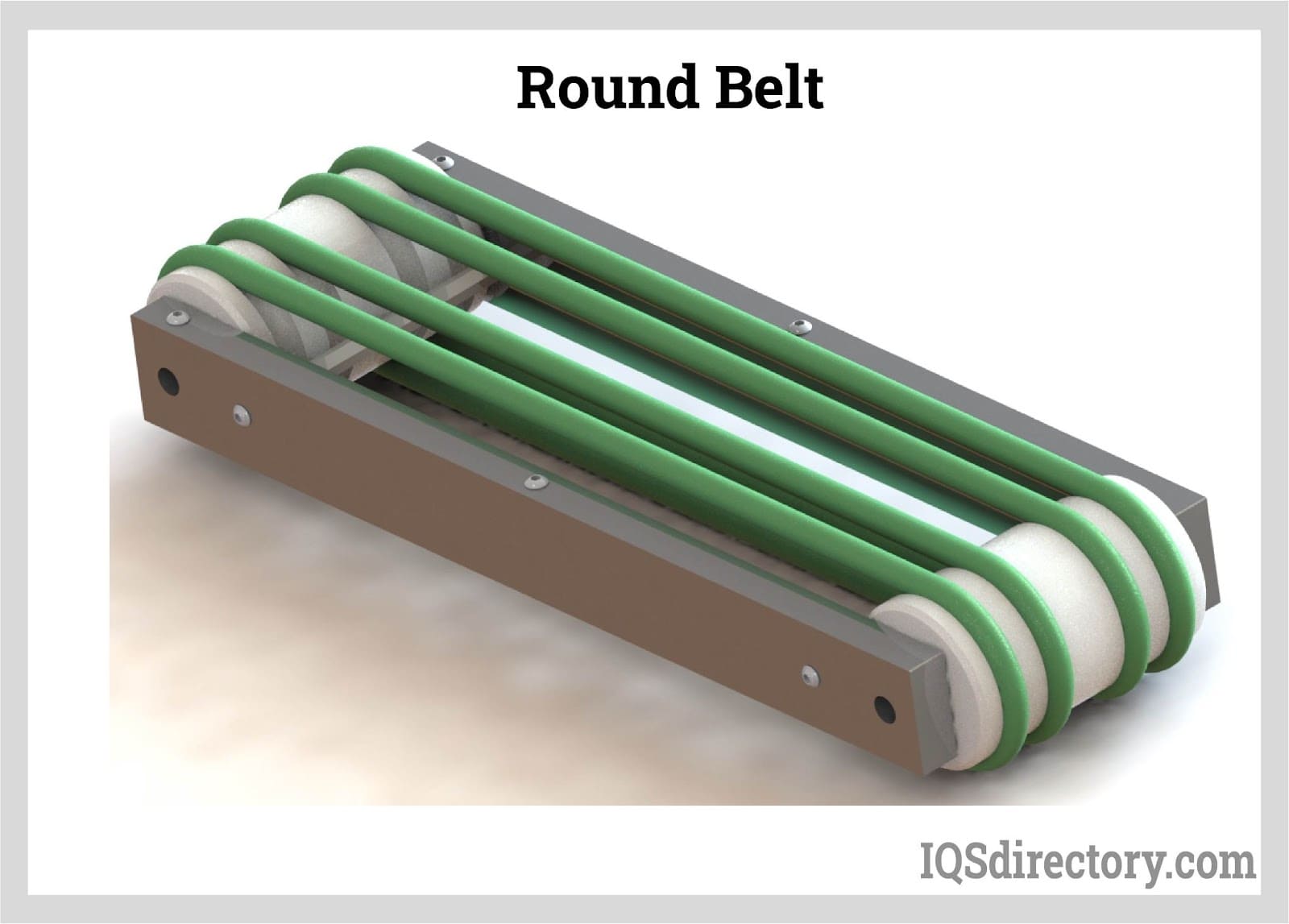 V- Belt
V belts are utilized in applications where there is proximity to the pulley centers. In actuality, V belts are the most popular kind of belt in use right now. A V belt fits into a comparable groove on pulleys and sheaves thanks to its trapezoidal (V-shaped) cross-section. V-belt drives can transmit more power while maintaining the same size due to the wider contact area between the pulley and the belt segment. V belts are used in various machine tools, including power tools, drills, milling machines, and lathes. They are frequently employed in non-industrial settings as well.
Toothed Belts
Positive transfer belts with teeth do not require friction to transfer power. Like chain or gear drives, it uses teeth to transfer force, but it does so considerably more quietly and with less lubrication. On the engaged side of the belts, the "teeth" slide into corresponding grooves on the pulley that has been machined. Toothed belts are utilized in applications where precise timing and position are essential since they do not slip at all.
As a result, these belts are sometimes referred to as synchronous or timing belts. They are frequently used to power and time camshafts in motorcycle and vehicle engines. Despite being great at conveying motion, flat, round, and V belts have several drawbacks. Belt slip, for instance, cannot be removed in any of them. Therefore, toothed belts are employed when there is a necessity for no slip.
Advantages of Industrial Belts
They are capable of moving materials securely from one location to another.
They may be installed anywhere and are superior to forklifts in terms of safety.
They are made to move loads of all weights, dimensions, and shapes.
To lower danger, many conveyor systems incorporate security features.
Due to their great efficiency and cheap component cost, industrial belts are fairly economical.
In contrast to gears, couplings, and lead screws, they can transmit power across great distances.
They function more silently and smoothly than chain drives.
They can mute vibrations and shock.
They protect from overloading through belt sliding.
They are lightweight and reasonably robust.
The cost of upkeep is low.
Applications of Industrial Belts
Conveyor belt systems are the most economical means of moving materials and goods in the manufacturing sectors among these new techniques. However, human resources are needed for physical labor, which raises liabilities. Conveyor belts can eliminate the need for physical labor, lower labor costs, and boost business profits. Due to their enormous success, almost every industry has begun implementing this great method in their transportation system.
They have a variety of uses in the industrial, food processing, and other heavy sectors. For example, the automobile, computer, goods, packaging, print finishing, bottling and canning, chemical, pharmaceutical, aerospace, and food processing sectors are among those where these conveyor belt systems shine.
Choosing the Right Industrial Belts Company
To make sure you have the most beneficial outcome when purchasing Industrial Belts from an Industrial Belts Supplier, it is important to compare at least 5 or 6 Manufacturers using our list of Industrial Belts suppliers. Each Industrial Belts Manufacturer has a business profile page that highlights their areas of experience and capabilities and a contact form to directly communicate with the manufacturer for more information or request a quote. Review each Industrial Belts company website using our patented website previewer to get an idea of what each company specializes in, and then use our simple RFQ form to contact multiple Industrial Belts businesses with the same quote.
Industrial Belts Informational Video